Regular price
Sale price
$43.95 USD
Unit price
per
Sale
Sold out
"

Just received my pen and gave it a test run. Found it to totally live up to your advertising. Pen is beautiful, well designed and weighted. It writes smoothly with no blotches, or leaks. Ink does not seep through the paper. Will be ordering several more for me and to give as gifts!" - J.W.
The pen serves as a tribute to Frédéric Chopin, a legendary composer and pianist, and it can inspire creativity and musical inspiration while writing.
The pen elevates your writing experience and adds a touch of elegance to your handwriting, making it perfect for writing personal notes, letters, and journal entries.
The nib glides effortlessly along paper, making writing feel more comfortable and enjoyable, and the consistent handwriting helps prevent smudging and errors.
The gold-alloy Medium nib with an engraved loop adds a sophisticated touch to your writing, making it perfect for formal writing such as wedding invitations or thank-you notes.
The luxurious gift box makes the pen an ideal gift for yourself or someone else, and the included piston converter and starter ink cartridges make it easy to get started with using the pen right away.
Adding this beautiful pen to your collection can be an excellent way to express your personal style and tastes, as well as your appreciation for music and the finer things in life.

Warranty

We offer 1 Year International Warranty on all Ellington Pens. Any issues, shoot us an email!  
Shipping & Returns

Free & Fast 2 Day Shipping in the US and UK. Super affordable rates worldwide.

30 Day hassle-free returns and refunds.
Nib Size

Medium Nib (0.5mm), made of gold alloy. (more nib sizes to come in the near future!)
Share
View full details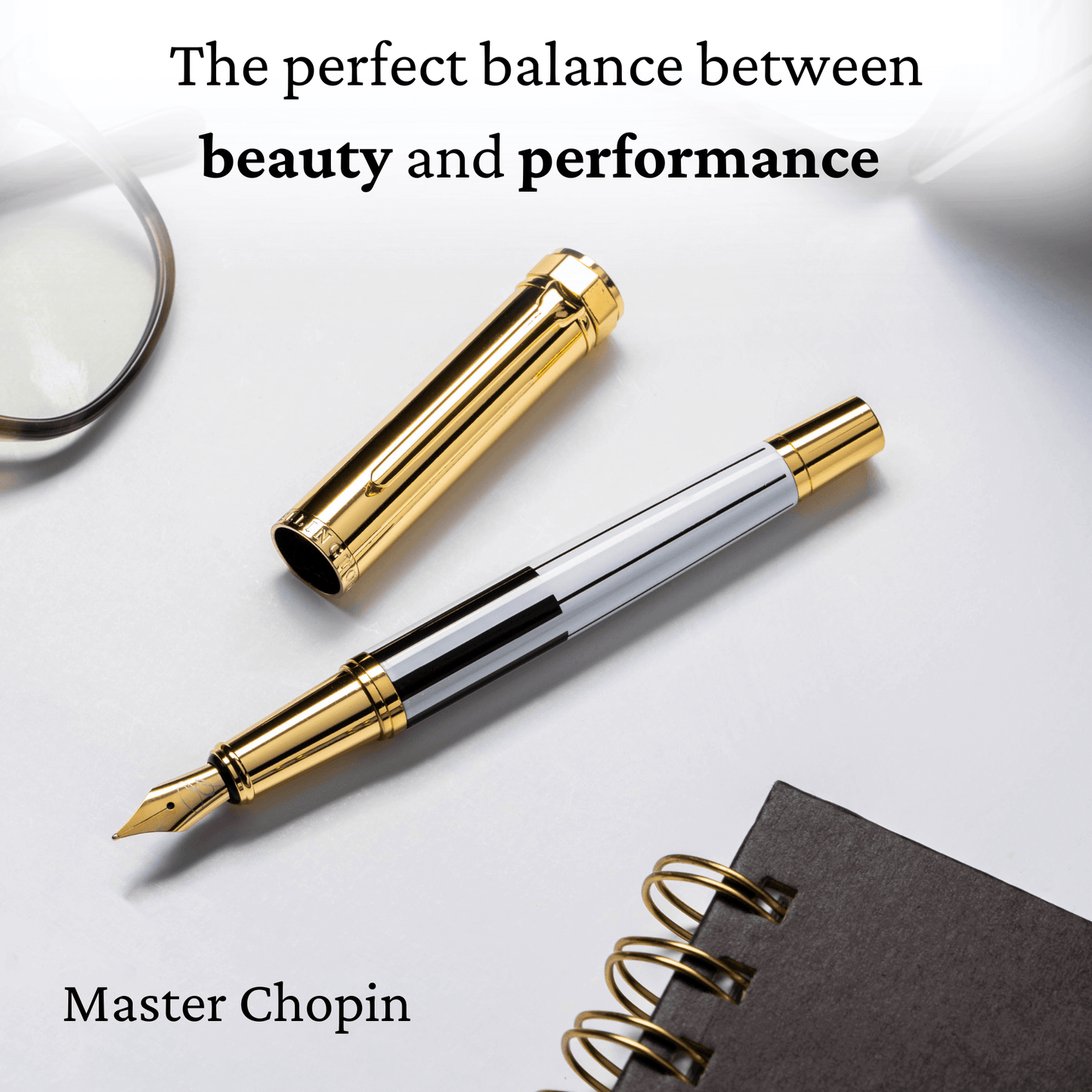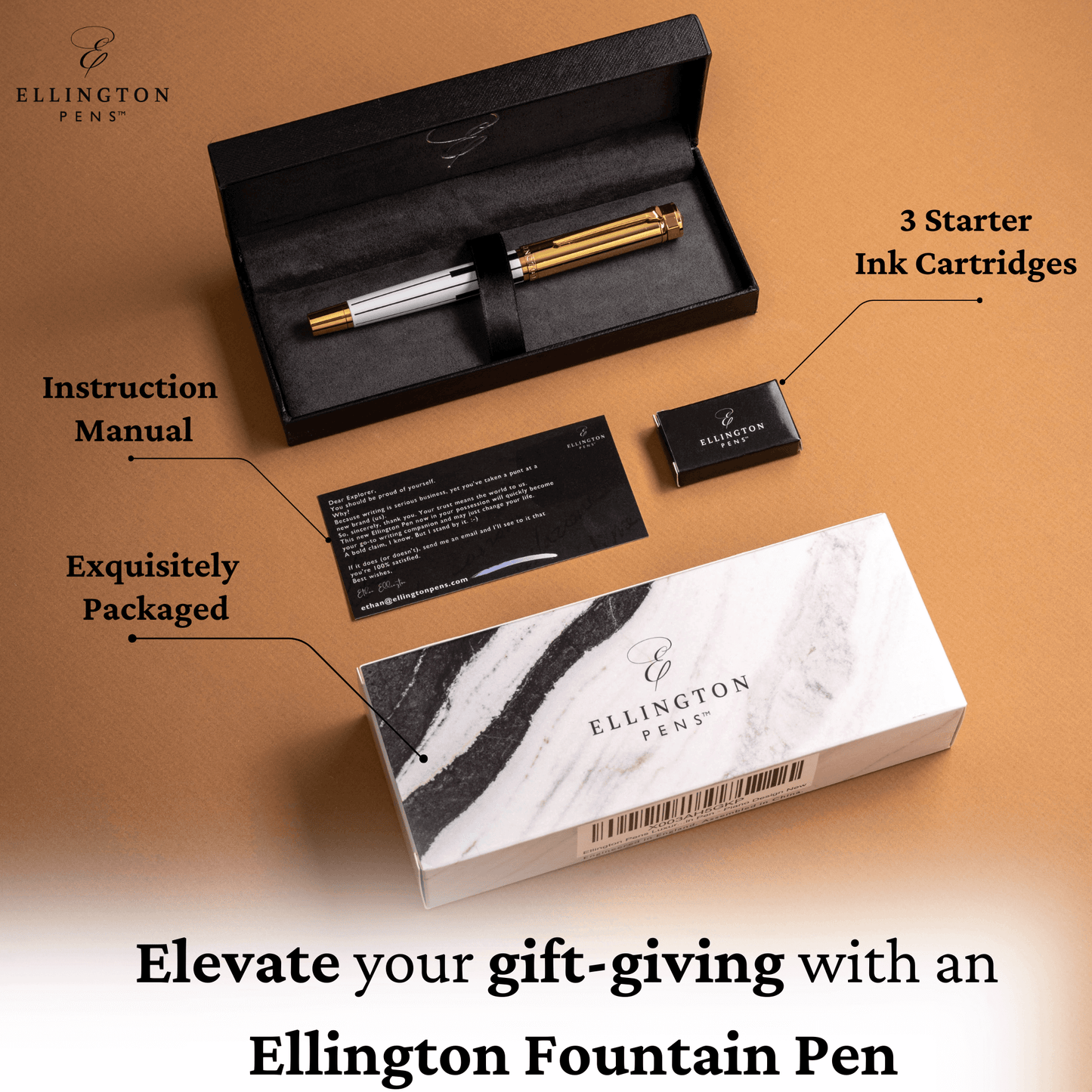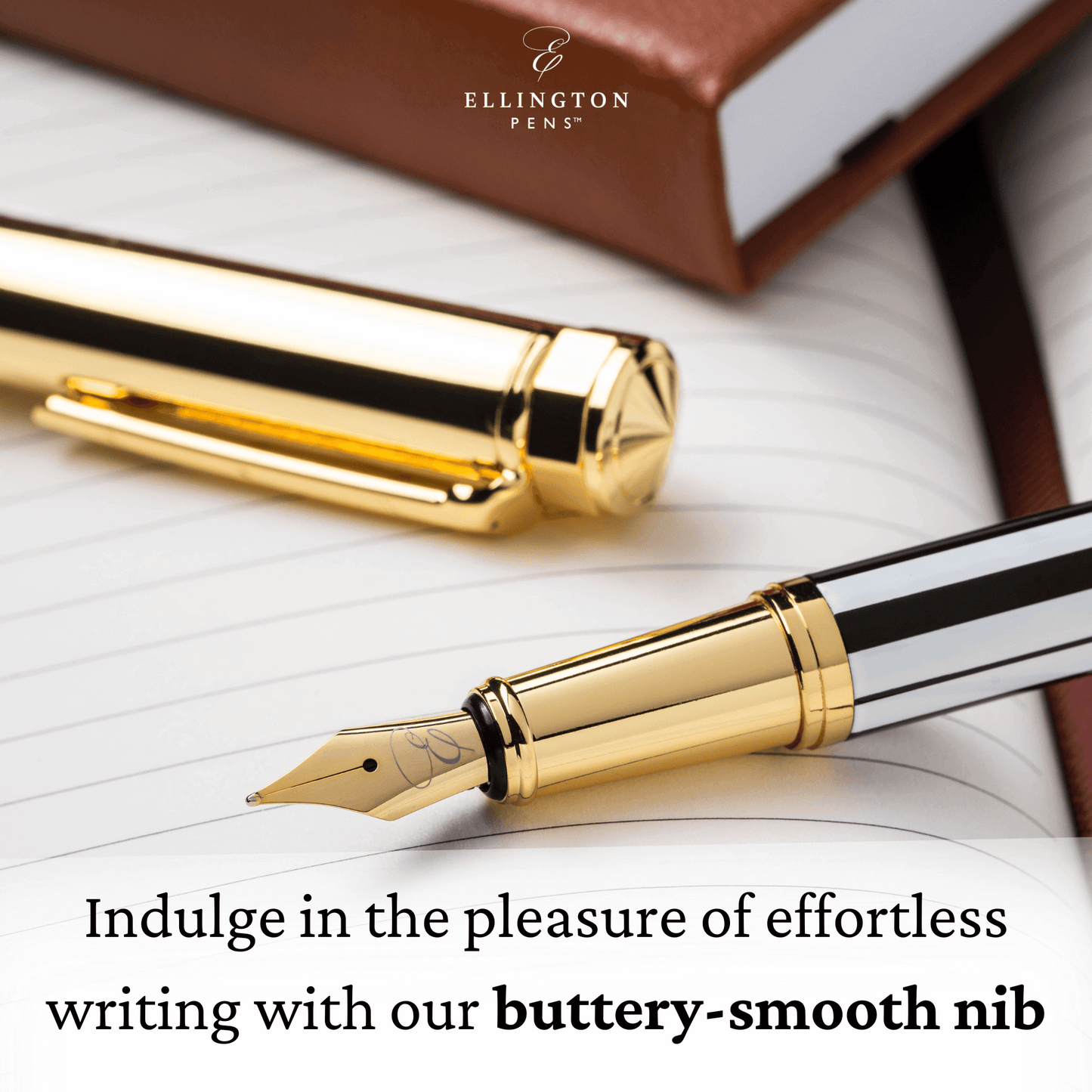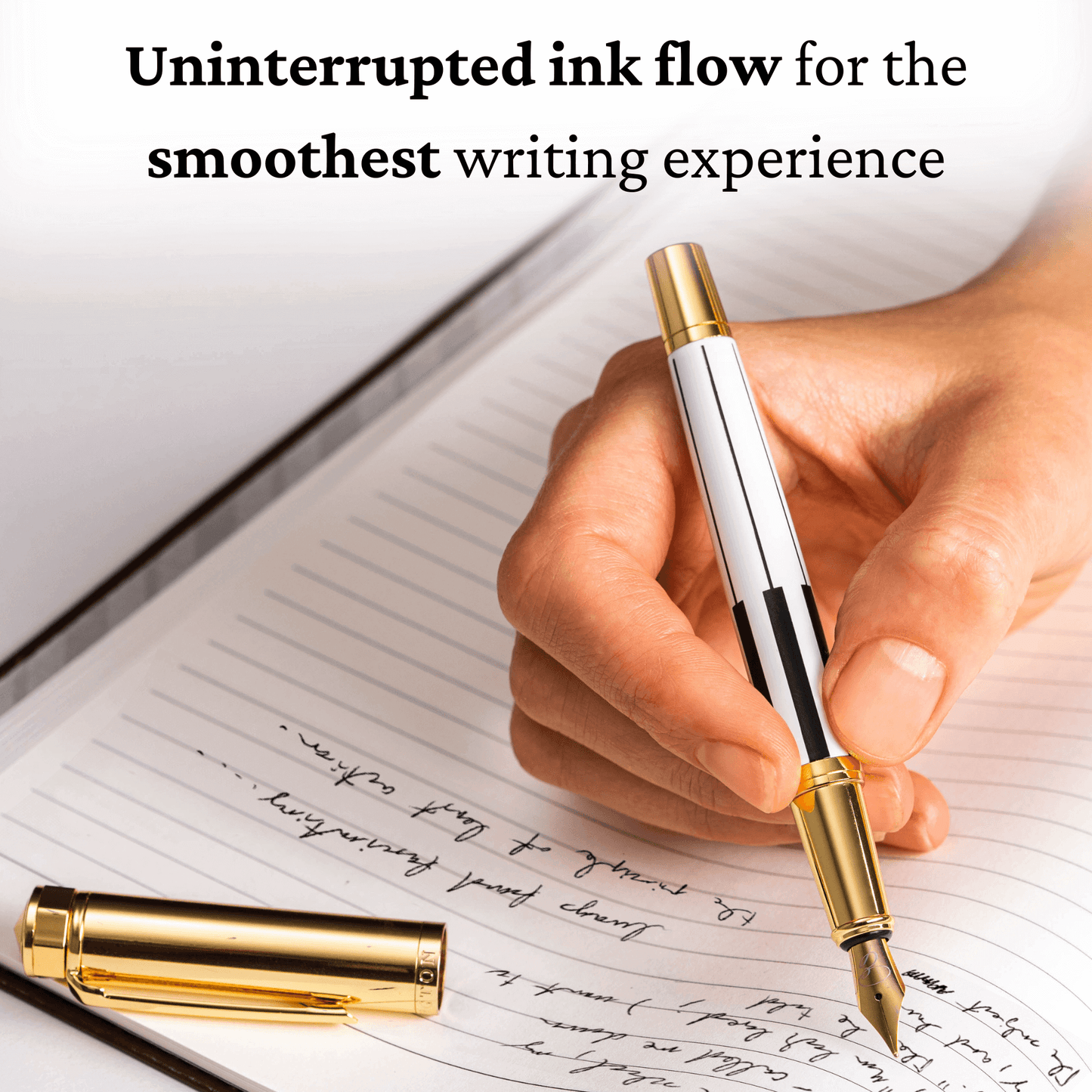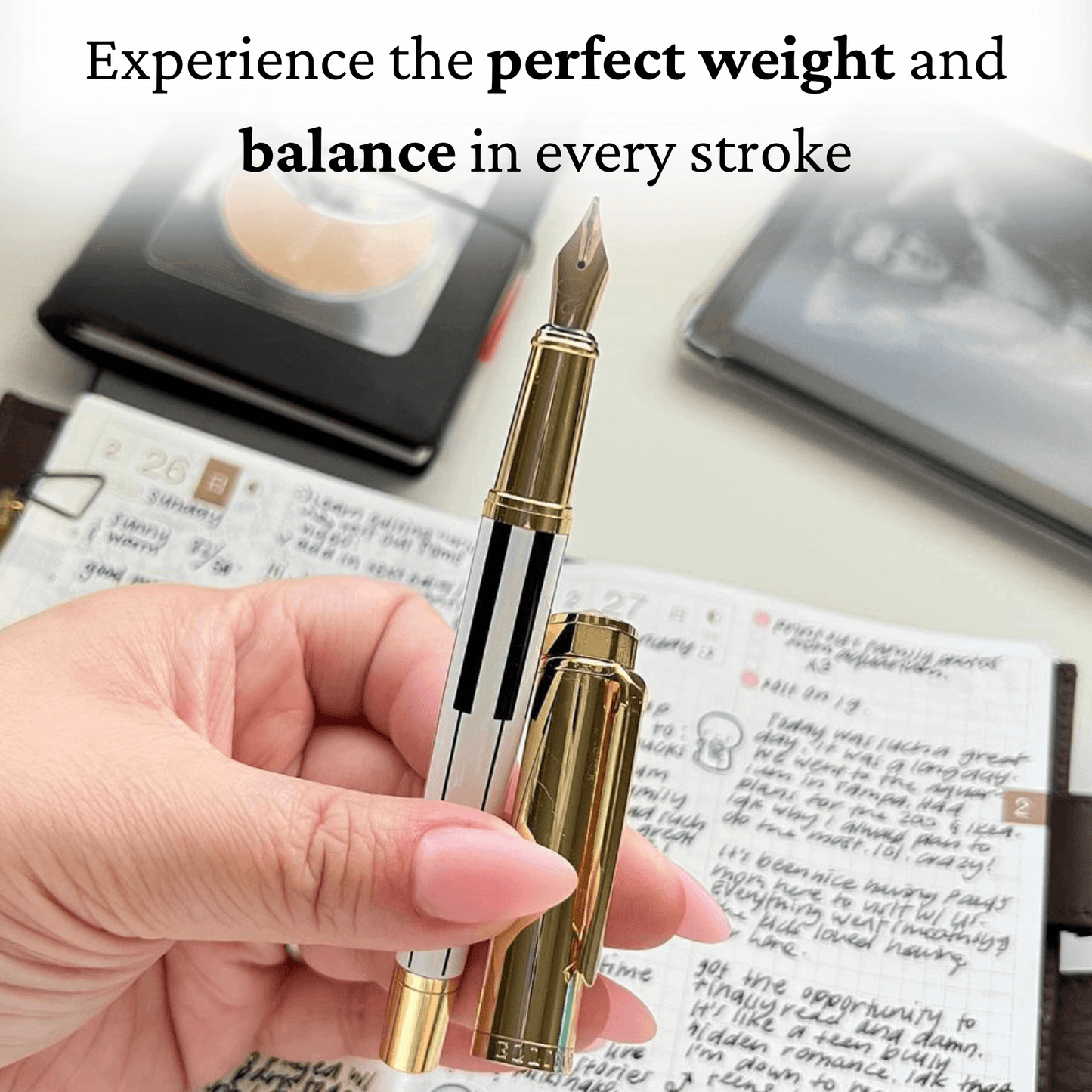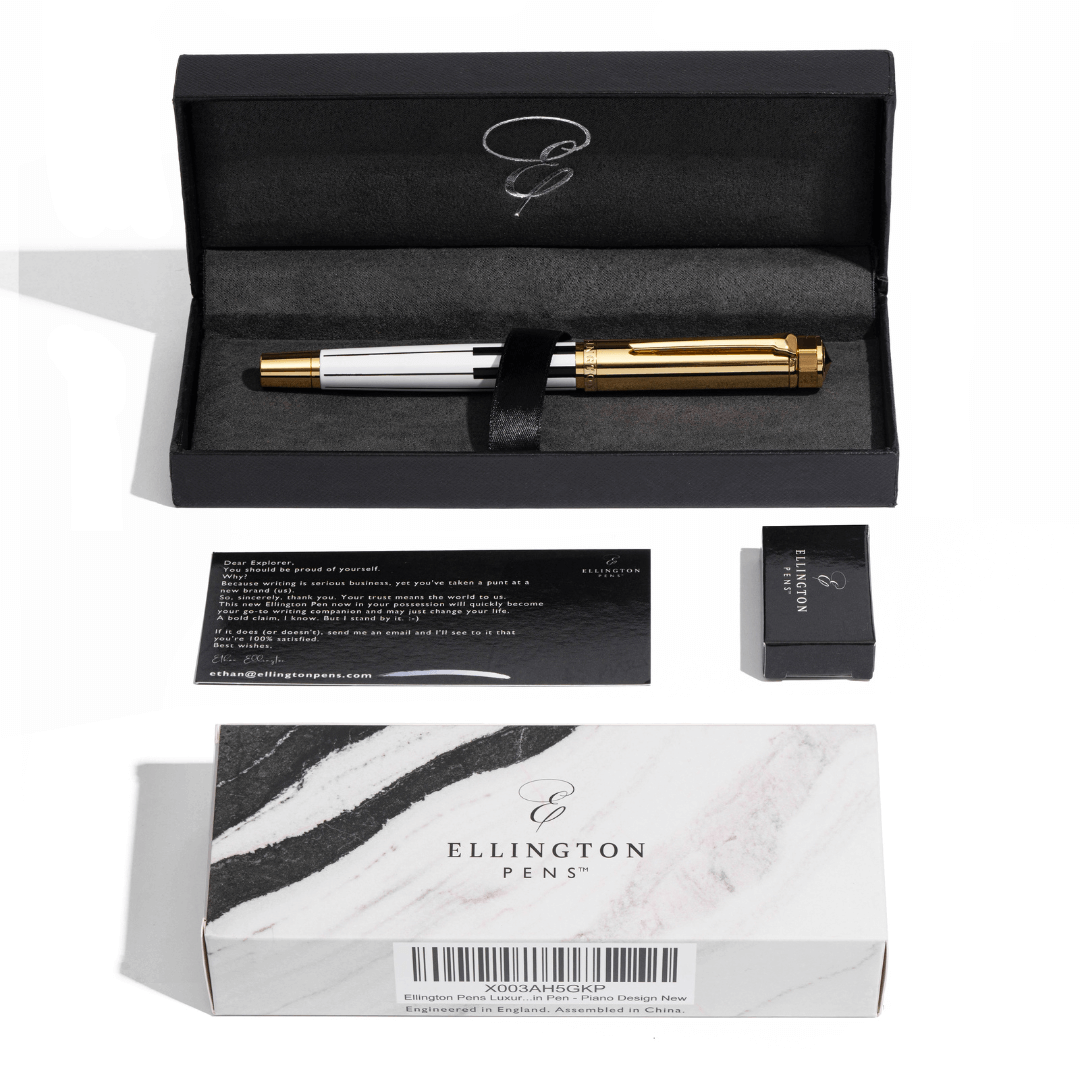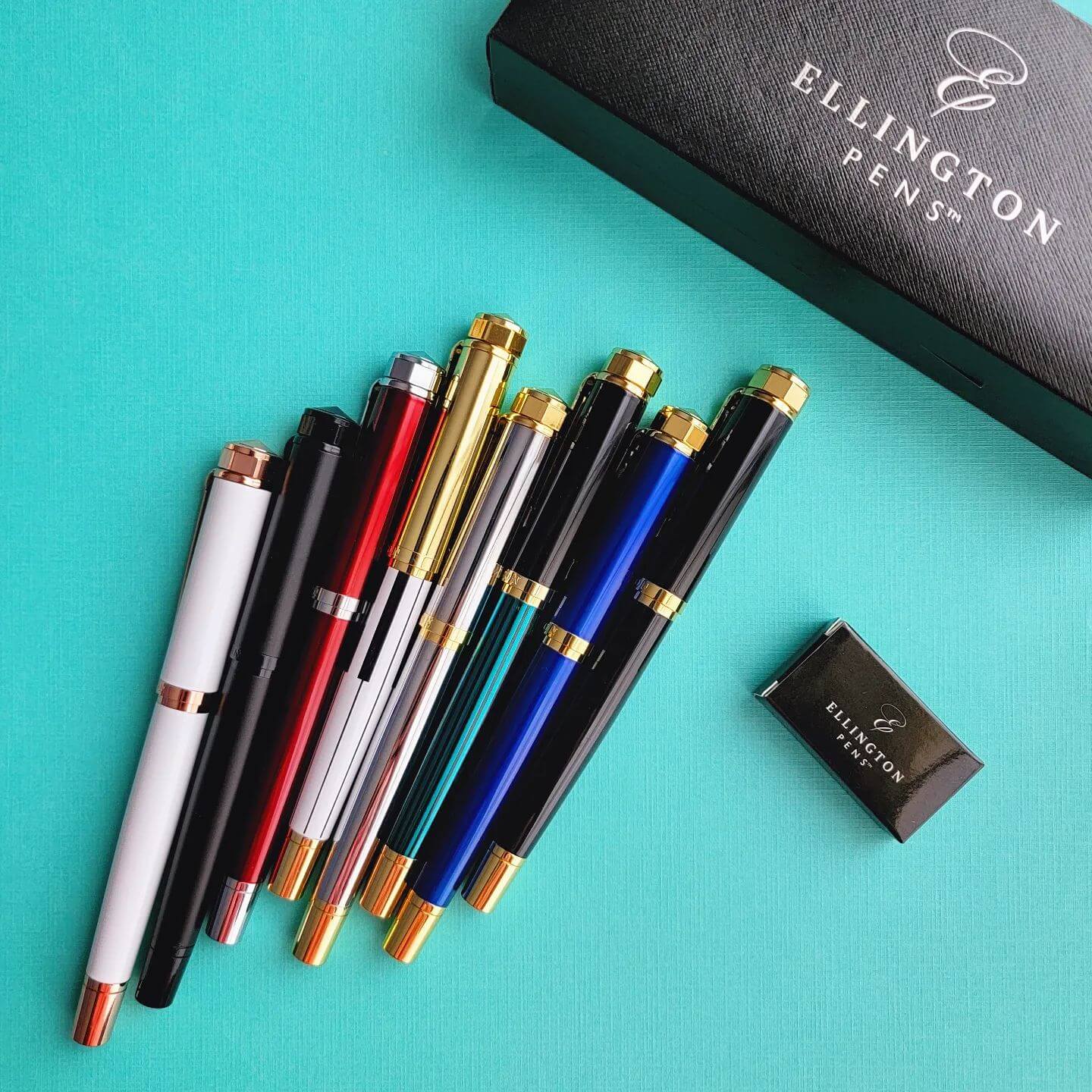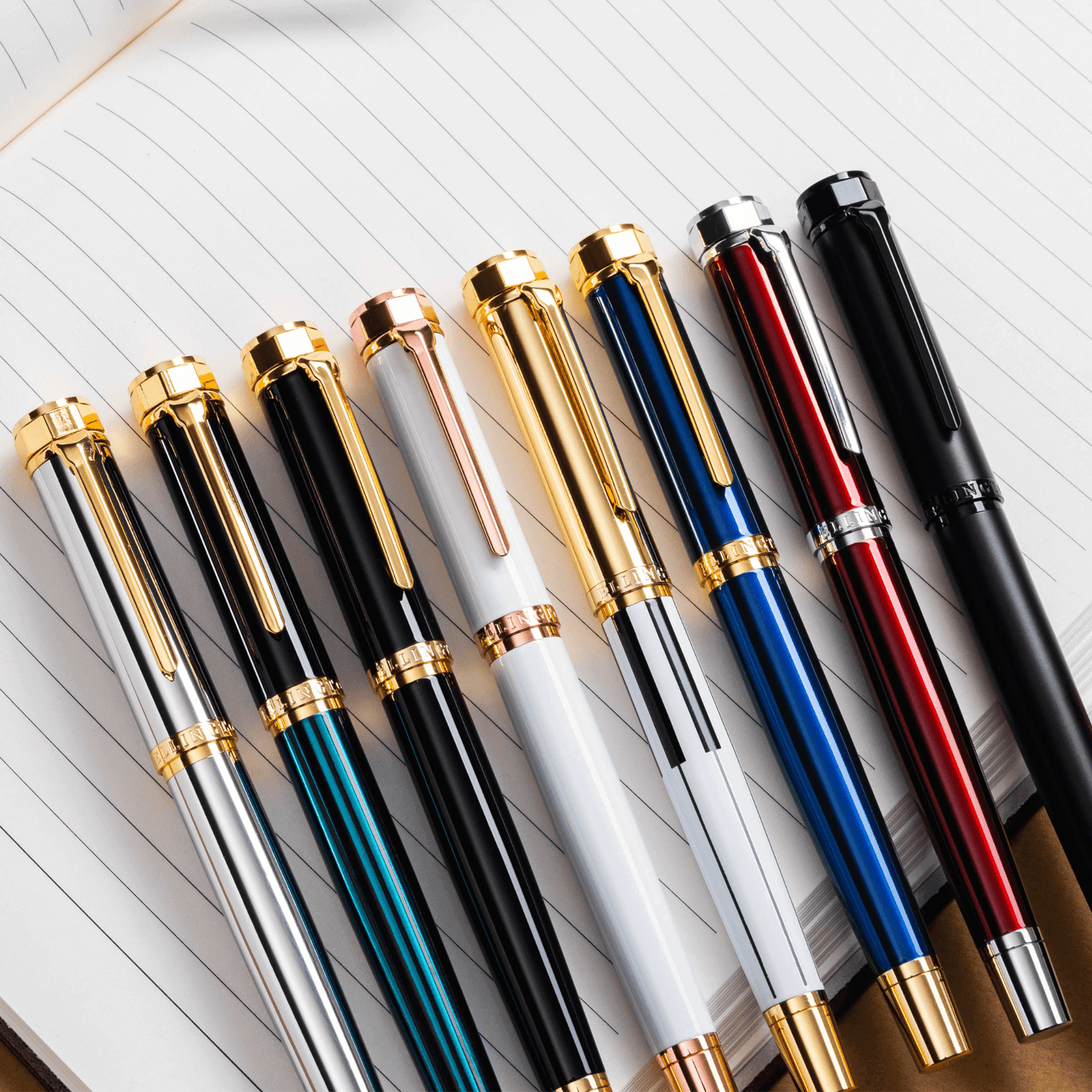 Worldwide Shipping

All orders before 5PM are shipped out on the same day, with secure tracking provided within 24 hrs of shipment!

1 Year International Warranty

For your complete peace of mind, your purchase is covered by a hassle-free 12-month warranty.

Smoothness Guaranteed

A smooth writing experience or your hard-earned money back!
beautiful pen for a beautiful experience
I really love this pen as I'm a pianist and organist, as soon as I saw the pen design, it was more like the pen chose me.
I love the case it holds the pen. Every time I open it, it just makes it special.
Actual writing experience itself, my goodness, it has been a dream. I don't even use a special paper, special ink, but I noticed my handwriting actually was becoming more uniform as I write more.
Thanks for making this great pen and its other pens. This pen is my second pen I own now.
I'm planning to buy these pens for friends' birthdays and Christmas presents.
What perfect pen!
This is truly what was stated about it. Smooth nib, well balanced. I can write for days with pen. Absolutely love it!
Thank you for your kind words about our fountain pen, Alfie. We're so happy to hear that you love it! The design is based on classic principles for a reason--we think it's the best possible option out there. Thank you for choosing to write with ours.
Elegant and perfection
I love all Ellington pens. This one is especially terrific. The "keyboard " design is wonderful for me, a piano player
Thank you so much for your kind words! We're thrilled to hear that you love our Ellington pens, especially the 'Master Chopin' design. As a piano player, it must resonate with your passion for music. We appreciate your support!
The Finest!
I have multiple fountain pens from a well-known German brand. Yours are the best far and away.
Thank you so much for your incredible 5-star review! We're absolutely thrilled to hear that our Ellington Pens have outshone the competition, including those from a renowned German brand. Your high praise means the world to us.
We take great pride in crafting pens that not only exude quality and elegance but also provide an exceptional writing experience. Knowing that you've found our pens to be the best in your collection is truly humbling.
Thank you again for choosing Ellington Pens, and we're honored to have earned your trust and loyalty.
Have yet to received the order with the Master Chopin
I look forward to receiving the Master Chopin pens.