Regular price
Sale price
$43.95 USD
Unit price
per
Sale
Sold out
"If you're looking for a fountain pen that is both comfortable and easy to use, then an Ellington Pen is the way to go. The pens are available in a variety of colors. The best part about this pen? It looks absolutely stunning, a real neck-turner." - Simon M.
Introducing our beautifully designed fountain pens, crafted in England to the highest standards, making them the perfect gift for any occasion.


Experience the sleek and elegant design of our modern pens, perfect for anyone who wants to add a touch of luxury to their writing.
Choose from a selection of fashionable finishes that match your unique taste and sensibility, each design carefully curated to speak to you.


Enjoy the effortless writing experience with the stunning gold-alloy nib, making it perfect for sophisticated fine writing.


The included ink cartridges and ink converter makes it easy to refill the pen with ink, so you can continue writing without interruption.


Each pen comes exquisitely packaged in a luxurious gift box, making it the perfect gift for yourself or a loved one.


Not only will you be impressed by the exquisite craftsmanship of our pens, but your purchase is also protected with a 1 Year International Warranty, giving you 100% confidence in your purchase.


Add one of these beautiful pens to your collection today and elevate your writing experience to the next level.
Warranty

We offer 1 Year International Warranty on all Ellington Pens. Any issues, shoot us an email!
Shipping & Returns

Free & Fast 2 Day Shipping in the US and UK. Super affordable rates worldwide.

30 Day hassle-free returns and refunds.
Nib Size

Medium Nib (0.5mm), made of gold alloy. (more nib sizes to come in the near future!)
Share
View full details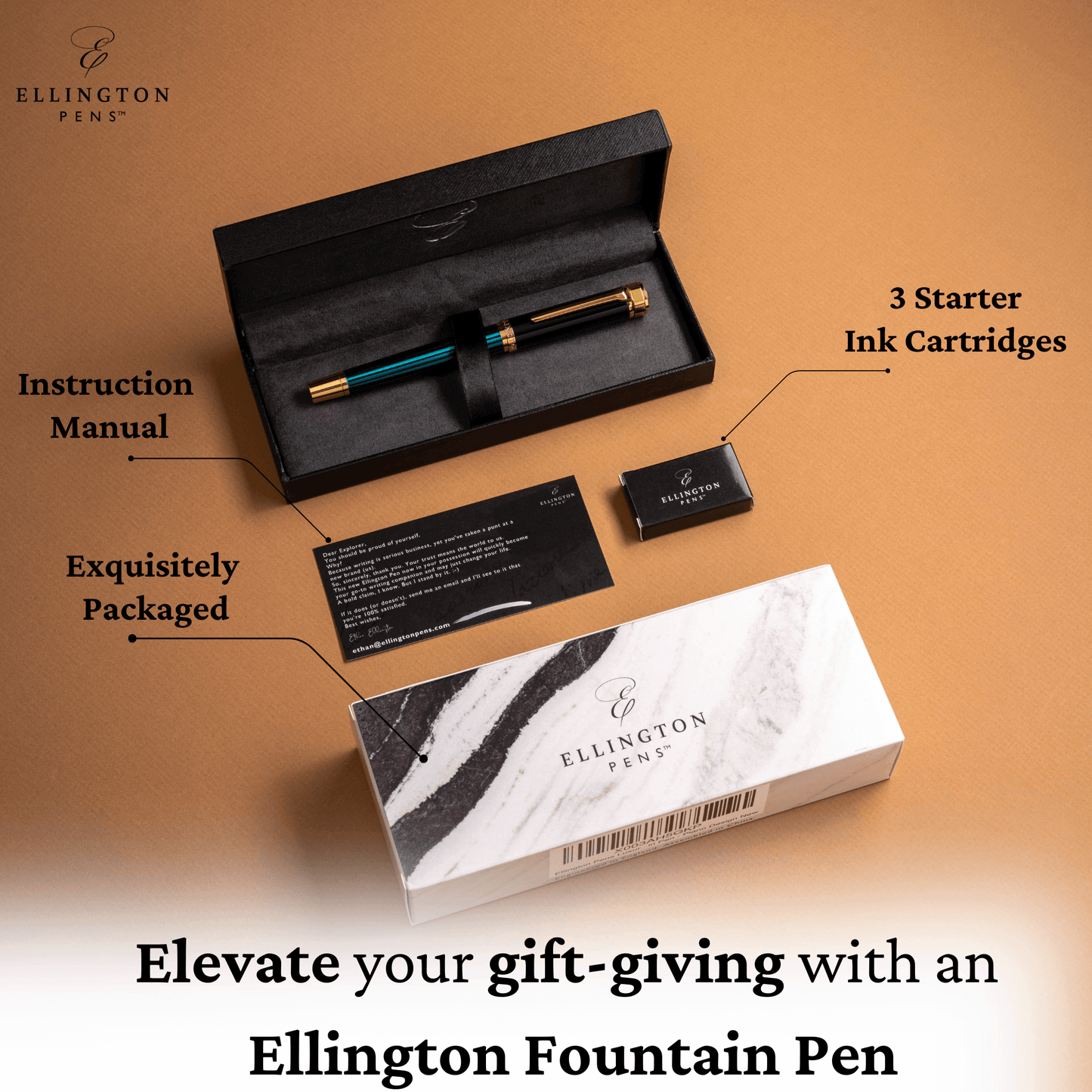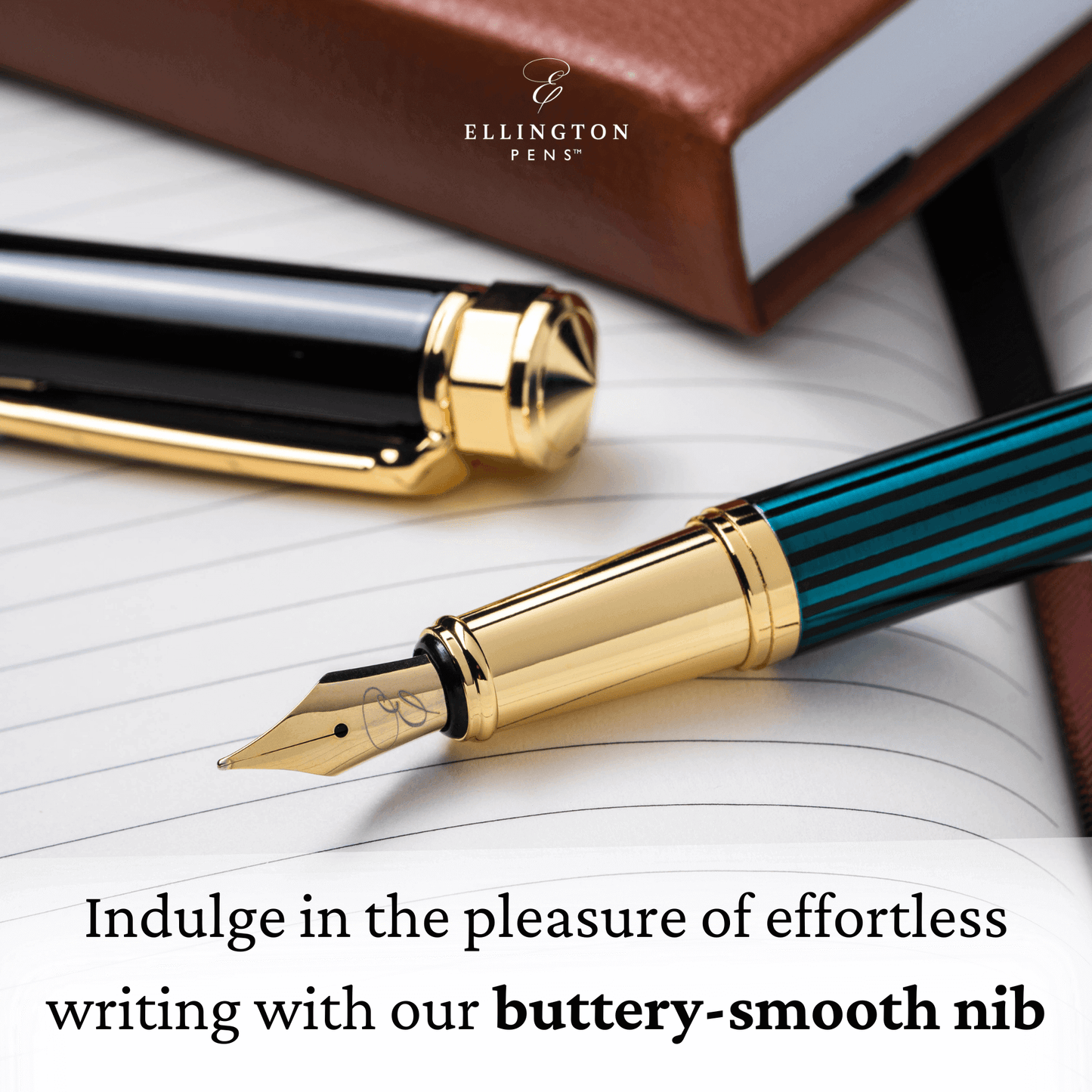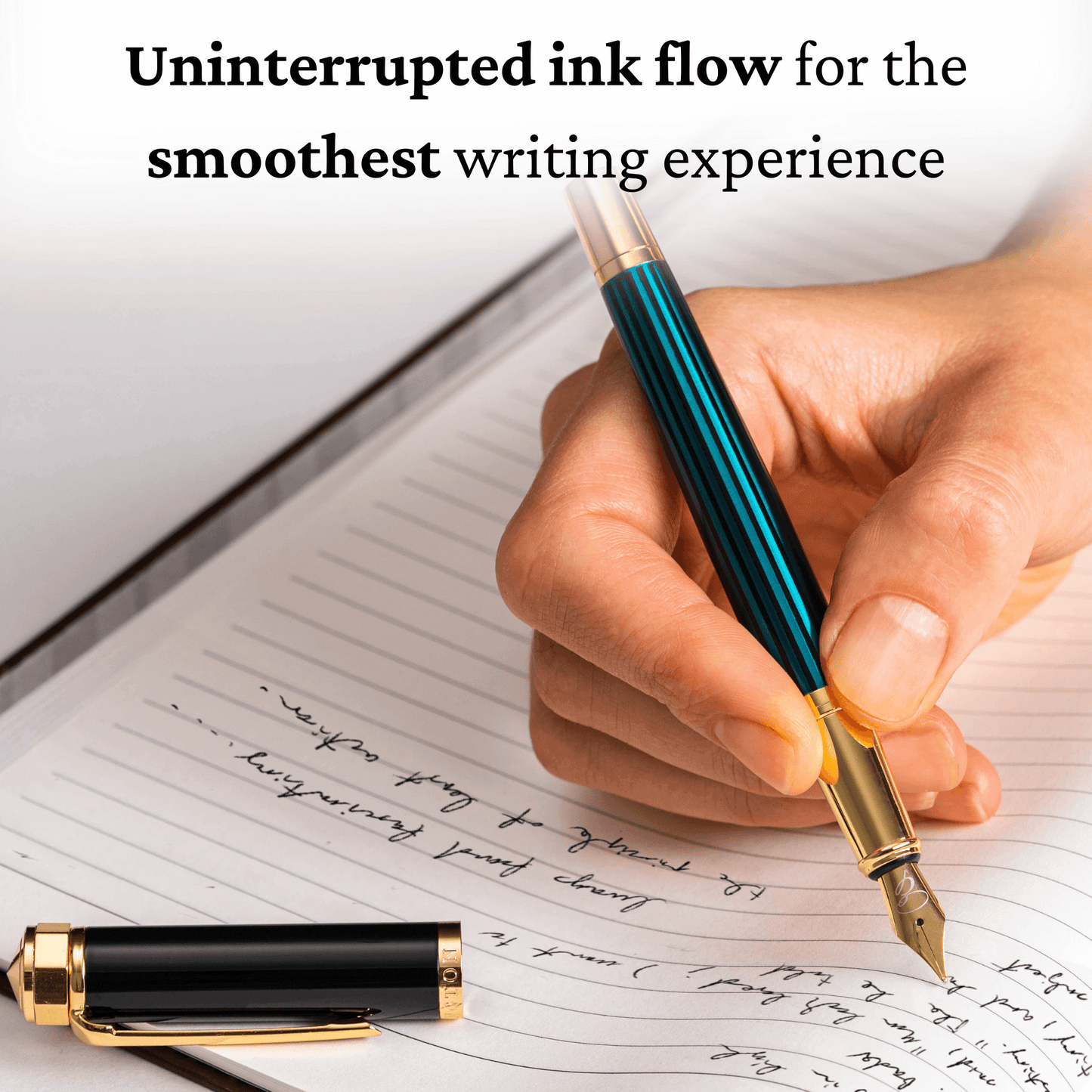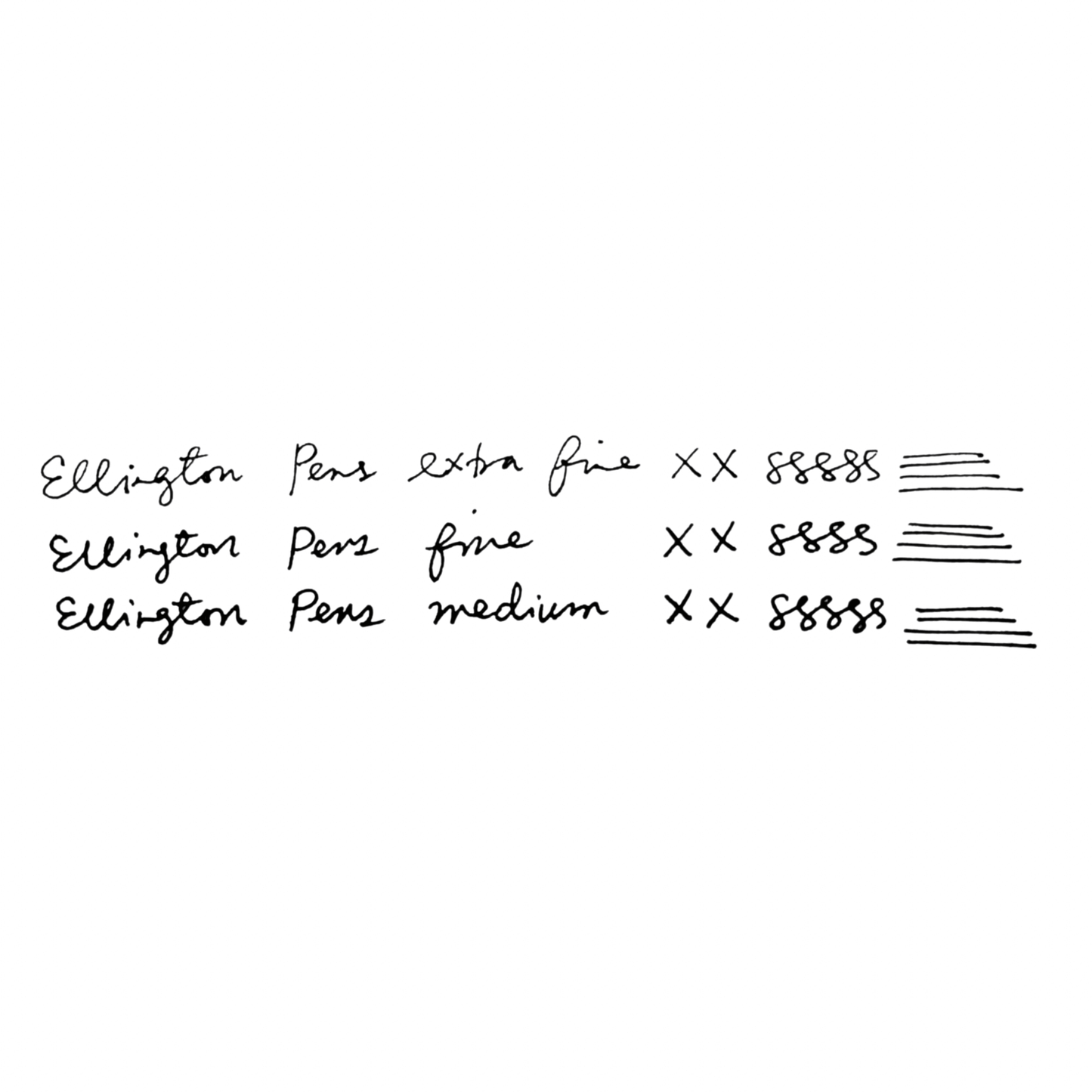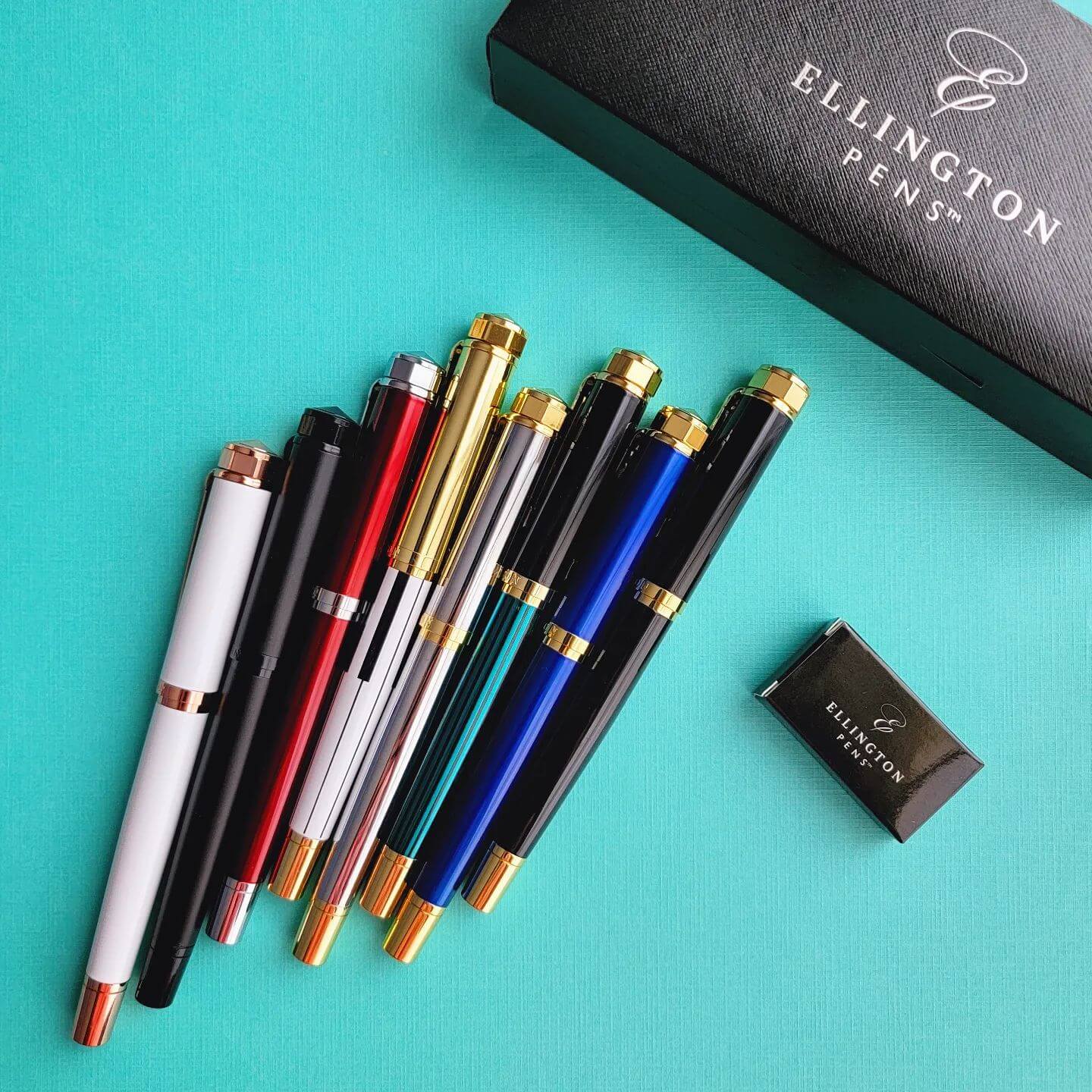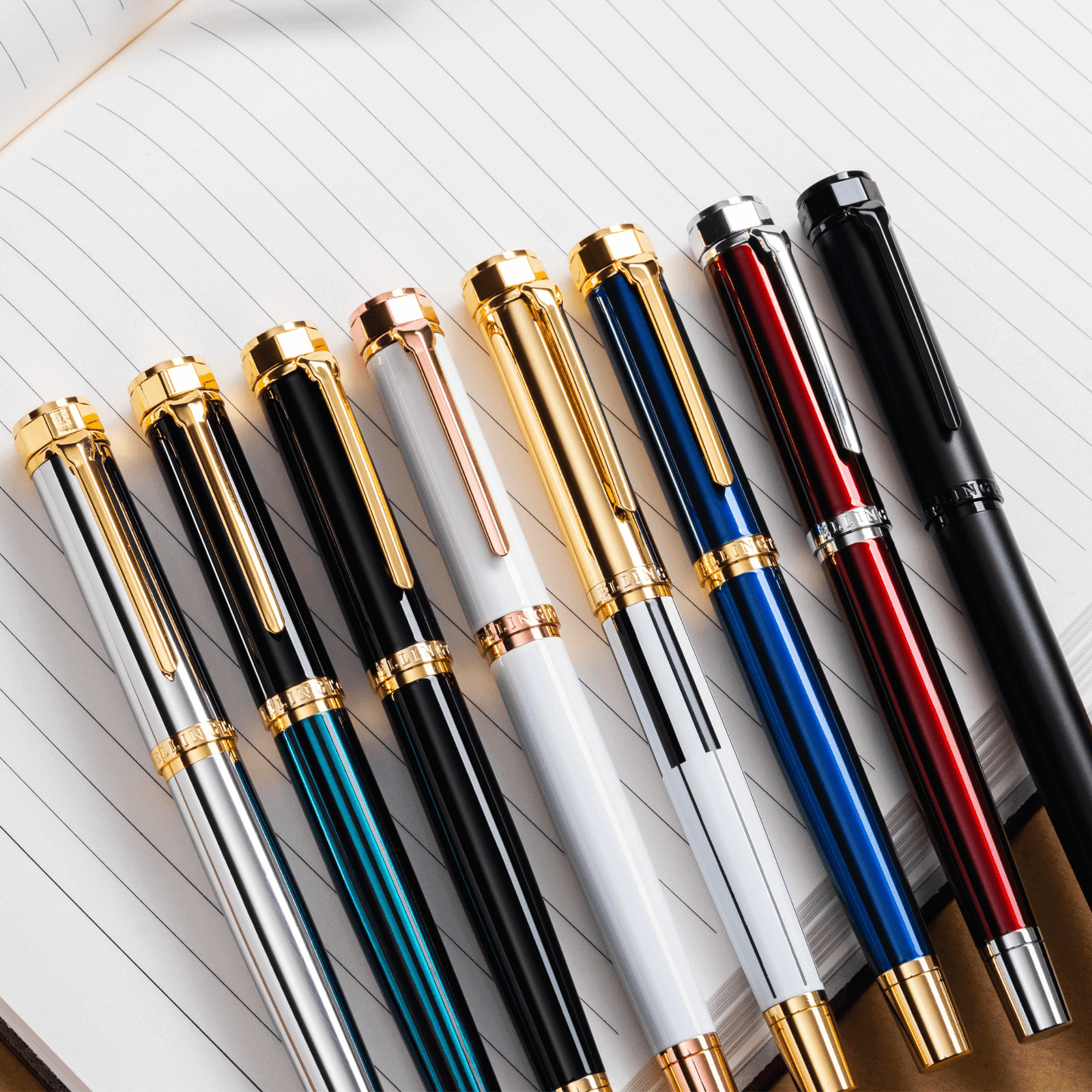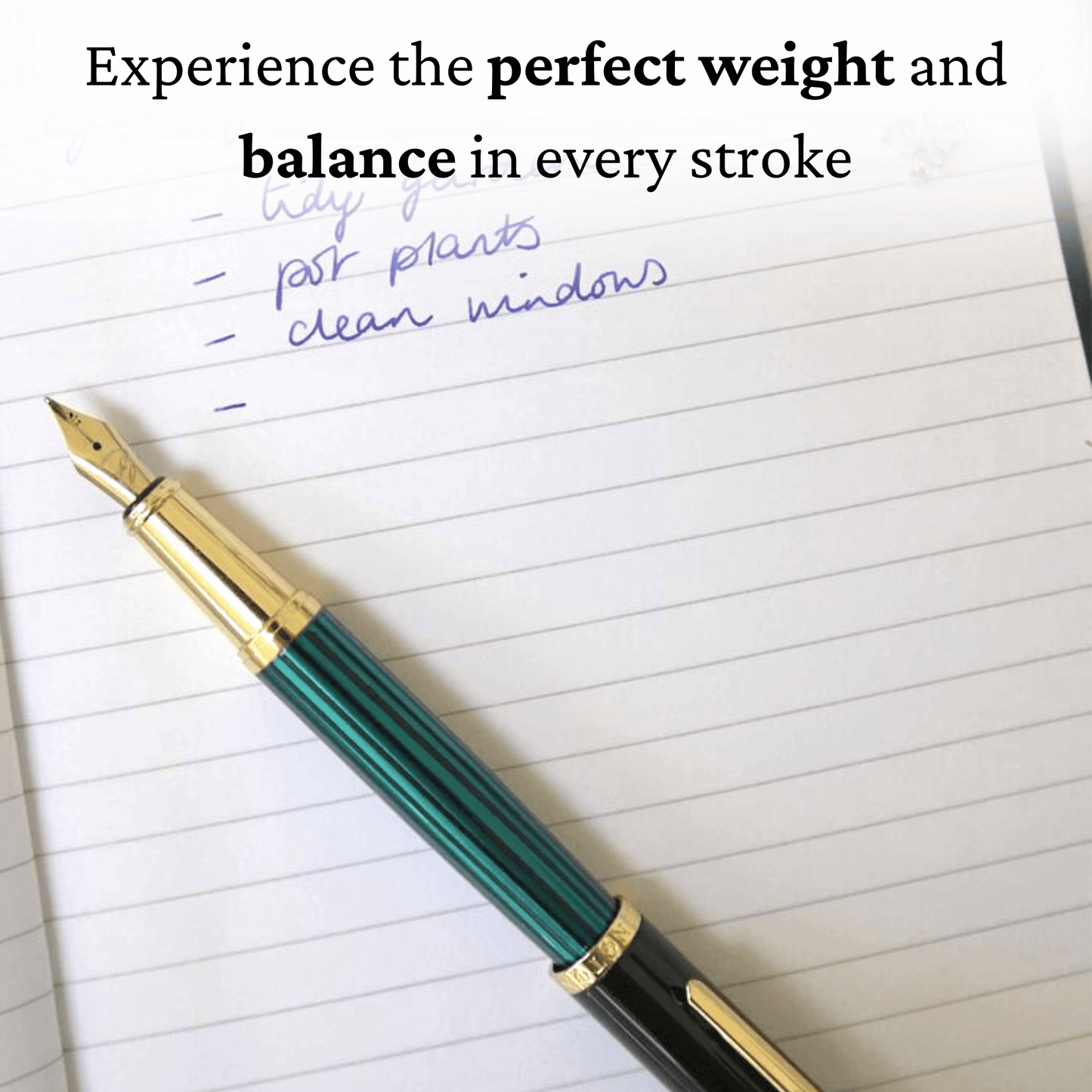 Worldwide Shipping

All orders before 5PM are shipped out on the same day, with secure tracking provided within 24 hrs of shipment!

1 Year International Warranty

For your complete peace of mind, your purchase is covered by a hassle-free 12-month warranty.

Smoothness Guaranteed

A smooth writing experience or your hard-earned money back!
Great Pen!
I can't say enough good things about this company. The service was excellent, and the product was beyond what I was expecting. The pen will become one of my all time favorites! Thank you Ellington Pens for your quality product at a fabulous price!
Smooth Writing
I love the pen and have received so many compliments.
Sadly I have lost the cap to my pen. Is there a way to get a replacement? I have ordered 3 additional pens.
Exquisite design and superb quality
As a left-hander, I don't normally get on with fountain pens, but this seems to be the exception. This writes really well for both left and right handed users.
The pen is presented in a really nice way, with a carry case / box, 3 ink cartridges, a large refillable cartridge and a welcome card from the manufacturer.
I did find it took some time to get the ink flowing. This is perhaps a good thing, since it means the ink isn't going to unnecessarily leak out of it.
The pen itself is really exquisite. It's made really well, with no imperfections or marks on it. It's quite a nice weight to hold and is comfortable to write with, even as a left hander.
The nip is strong and a nice tight type that doesn't over-flow ink.
Thank you for choosing the Ellington Fountain Pen, Tommy. I'm glad to hear that this pen works well for both left- and right-handed users--that was our goal in designing it!
I'm sorry to hear that it took a little while for the ink to start flowing; we do test each pen thoroughly before shipping it out, but sometimes they may require a little extra coaxing. (This is why we include three cartridges with each pen!)
Thank you for your kind words about the pen itself. We're really proud of its design and construction, and are happy to know that it's comfortable and easy to write with.
The nip on the fountain pen is one of my favorite features. It's strong and tight so that ink doesn't flow out unnecessarily, but also has just enough give so that you can control how much ink comes out when you need it. Thanks again for choosing the Ellington Fountain Pen and writing such a positive review!
Obsessed with this Pen!
I love Ellington Pens. I've had mine for 2 months now and I use it every day. It's sleek, stylish & elegant- everything a fountain pen should be. The ink never dries out and the price, although in medium range, is worth it because it's so well made. I'm obsessed!
Thank you so much for your kind words, Lauren! We're so happy to hear that you love your Ellington fountain pen. It was designed with a lot of thought and love, and we're thrilled to know that it's living up to your expectations.
We appreciate your business and are grateful for customers like you who take the time to write such wonderful reviews. Thank you again, and we hope you'll continue to choose Ellington pens for all of your writing needs.
Well-crafted pen
This is a good looking, well crafted, fountain pen that Is a joy to write with at a fabulous price. I have bought 2 so far and intend to get a couple more to use with different color inks. The converter that came with the pen is easy use. An excellent choice.
It is an honor for us to be part of your creative process, and we are more than happy that you enjoy our pens. We are continually trying to make the best pens possible, and if you have any feedback or suggestions, please let us know.